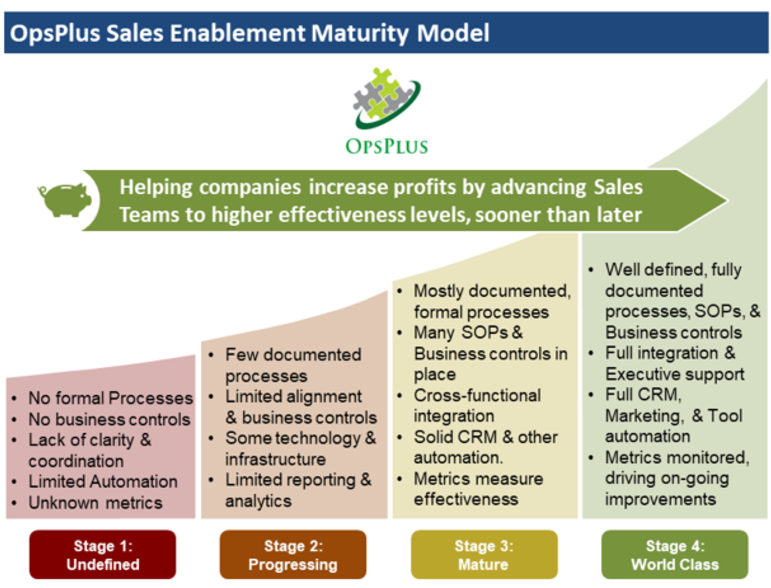 why opsplus
20+ Years Sales Operations / Sales Enablement Experience
​20+ years in B2B Enterprises (SW/Tech & Services companies)
Certified Salesforce Administrator *
10+ years of Salesforce Admin Experience
HubSpot Partner
5 years HubSpot Marketing-, Sales-, and Service-Hub Experience
We work on the business of sales. We speak the "language" of Sales & Marketing, have deep sales process knowledge, understand the operational needs of sales teams and sales management, and know how to leverage Salesforce and hubspot to better enable sales & marketing teams.
​* Whether hiring a Salesforce Consultant or a full-time employee to administer your Salesforce system, it is recommended that you verify they maintain certified Salesforce credentials. You may comfirm my Salesforce Credentials at Salesforce's Trailhead website located here: Salesforce Certification
some Companies we have helped include:
our approach
OpsPlus addresses complex operational challenges by offering enterprise-class sales operations and enablement expertise, best practices, and tools combined with Salesforce.com expertise to B2B companies. Whether you're looking for a small tweak or complete overhaul, we have you covered. For SMB's we accomplish this through hands-on Consulting Engagements or Managed Services customized to address their specific challenges. For Enterprise companies we offer tech-enabled solutions to drive consistent application of sales methods and delivery of content throughout the sales cycle.
Testimonials
Awesome. More important is your understanding of trends and analysis of where we should sell, where we need to focus and spend resources, and where we are at risk.

- TK, Head of New Business Sales

I just want to thank you and tell you that your strategic account targeting plan was well received and that this is the type of work that will "drive" us to be more effective. Thanks for your tireless effort and dedication.

- GR, Head of North America Sales

Don't want to pile up the e-mails here, but the work that Gary did to prepare for our meetings and follow-up is exemplary.

- TT, SVP National Sales
what we do
DIAGNOSE

Assess your current state

PRESCRIBE

Explore best practice options

PLAN

Craft a path to improvement

Build / pilot

Adapt, Configure, &Validate

Rollout
Communicate, Train, & Deploy

Monitor

Measure Results & Refine